Fiji's 300-plus islands are the ultimate destination for an action-packed eco-adventure. Sparkling coastlines, coral-filled reefs, lush cave filled rainforests and pristine waterfalls - will have you grabbing your hiking boots and getting back to nature.
 Image by Don Mammoser, Shutterstock
Eco-tourist hotspot, Taveuni, is Fiji's "Garden Island" and home to Bouma National Heritage Park with its palm-fringed beaches, jungle vistas and spectacular waterfalls packed with native wildlife. The teeming crystal clear waters around Eel Reef and Great White Wall are a divers and snorkeller's dream. Explore the Tavoro Waterfalls (above) each with its own natural swimming pool - with cliffs, volcanic peaks and ridges there are also some great walks on offer on the island.
Vanua Levu Island is quieter, less crowded and perfect for getting off the beaten track. From Savusavu's secluded bay with its stunning green backdrop, thermal pools to the Warsali Nature Reserve with its hiking tracks and gobsmacking views. Pristine jungle blankets the island and is home to most of Fiji's endangered species and the spectacular Nakawaga waterfall. North of Savusavu in 4WD country lies the ancient ruins of Nukubolu and steaming hot springs. Around 25 km offshore to the South East Namena Marine Park boasts the most spectacular diving and snorkelling and the world famous Rainbow Reef  home to dazzling coral and teeming with fish.
Over on the 'big island,' the impressive Sigatoka Sand Dunes sit at the mouth of Viti Levu's longest river. Take the walking trails through this ancient archaeological site. Hikers and nature lovers also flock to nearby Koroyanitu National Heritage Park for its native forests, waterfalls and unique birdlife all just 30 minutes from Nadi. Kula Eco Park on Viti Levu is an award-winning ecological reserve. Home to native wildlife: bats, birds, fish and reptiles, Kulu Eco Park is also a centre for captive breeding of endangered species. Feed sea turtles and wander through the native jungle. 10 minutes North of Nadi lies The Garden of the Sleeping Giant at the foothills of the Nausori Highlands - take a walk through a garden full of tropical orchids, lily ponds and native plants.
With over 200 marine parks - Fiji's waters are teeming with life. The soft coral capital of the world, this is the best place to scuba and snorkel your days away. From June - October you can take a dive with humpback whales. Or head to Manta Ray Island from May - October for a swim with these majestic creatures at this manta refuge. Fijian waters also play host to five of the world's seven sea turtles species or you can also head out to Moon Reef to see the resident spinner dolphins.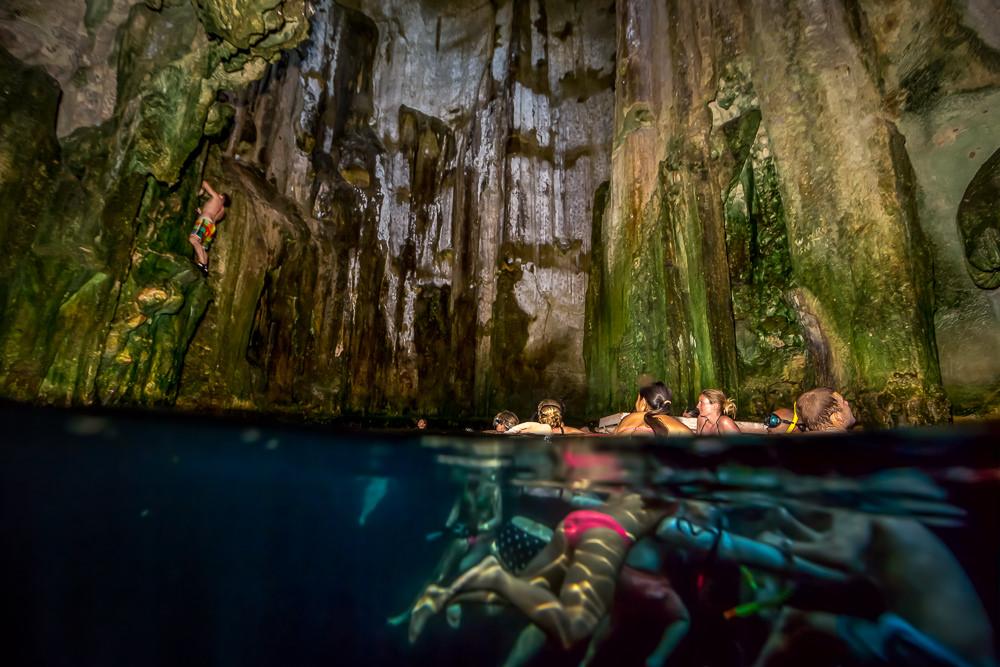 Once you have explored ocean and earth - head underground because Fiji has cavers covered. Sawa-i-Lau in the pristine Yasawa Islands will have you go deep into a limestone labyrinth - bring your torch and take a guide into this magnificent inner world. The Sigatoka Valley on Viti Levu will get the adrenaline going as you conquer a river crossing on a bamboo raft to get to the spectacular Naihehe cave system. Or explore one of Fiji's largest - the Snake God Cave home to glittering stalactites and its main chamber home to the rare blossom bats.
Written By: Fotini E Douglas