I approached the desk with an awkwardly placed smile to the Visa control lady, she politely asked me to look into her camera. What seemed like a precariously placed 90s webcam, I stared into the lens with a somewhat un-nerved excited feeling in my stomach. She hands me back my Burma stamped passport and gave me the go ahead. I was in. MINGALABAR MYANMAR!! (GOOD MORNING MYANMAR!!)
MANDALAY
From leaving the airport, I could instantly smell the smokiness of the morning sun and dust in the air. You could tell this place was untouched, unearthed, with a view of green fields and motorways, it was possibly just the relief to be on land again, but I thought what a beautiful place to have landed.
I notice a scrappy dog basking in the 40 degrees quite content with life, I ponder if a stray dog could even survive in the hustle and bustle of the airport amongst the needy taxi drivers. Before I knew it we were in a breezy air con coach, updated with our future antics to be had in Myanmar and handed a small welcome gift of a 'longyi' (Traditional Burmese garment). Slightly confused of how the cloth would be worn never mind beneficial, I pop it in my backpack and gaze out the window spotting several temples in the distance.
We arrive at our accommodation for the day to freshen up and rest. Instead we dump our belongings and head on out to see what Mandalay has to offer. Within ten minutes of arriving we were back out in the streets to explore this unknown territory. The city was panned out fairly criss cross, high city blocks in chess board formation, we couldn't get lost even if we tried, so we stuck to the local central markets as advised.
Wandering round the markets in flip flops, trying to determine what meat they were chopping up or what vegetables they were carving into; it was all a selection of mystery local produce, raised and harvested by the local stalls man. With children wielding knives across the fleshy blooded tables, as if it was a show and dance, confirming that this was just their culture and this is what they do around here. The spices hit the back of my throat as I pass an elderly lady deep frying what looked like miniature scotch eggs. Tempted to indulge I stick to a bunch of dubious bananas for what worked out to be around 14c. Unbeknown I tipped generously and retreated back to the hotel for some rest.
As we file into a restaurant for our welcome drinks and dinner, the service was second to none. The waiters whisking round, popping beer caps across the table, pouring giant ice cold beers into tiny ice cold goblets. We cheers'd and got to know one another over some…. different?? well prepared food. 
BAGAN
The night coach was a surprisingly comfortable sleep, The option to watch Tom and Jerry for 10 hours instead of sleeping was passed by the majority. We slowly began to wake up one by one in the realisation, it was almost time to watch the sunrise. We step off the coach into the gritty car park. We walk up to the foot of our first temple. I remove my shoes politely, with the thought **they're probably not gonna be there when I get back** to which, I begin the climb. Slowly mounting higher and higher, the steps get steeper and steeper, to the point it begins to feel like I'm clambering up a ladder. Unsure of whether to go any further, I decide to settle for the level one shy from the peak.
Clutching the broken brickwork, I turn to see a glorious setting of red stained desert showered with temples and golden tips. Becoming more and more confident of the height, I brush past other travellers taking their breath taking photos while I take mine. Although stunned with my I phone picture quality, I look around and realise not one single photo I take is going to capture the incredible setting that I've found myself in.
The red sun begins to penetrate the smoky air and slowly rises past the long stretch of land. Every one of us experiencing the silent spiritual feeling of a new dawn across Bagan. Sat on the temple ledges humbled by one another's company, we do nothing but watch for an hour or so before dismounting and returning back to our coach.
After visiting several more temples, we check into our hotel for the afternoon. Without hesitation, some wander to find the nearest 'beer station' I decide to join in with the hunt. Attempting to stay safe, I realise that pathways don't really exist around here so I stride confidently along the road as bicycles and mope-heads honk me every 20 yards or so.
I finally find myself greeting a bar man, no older than 10, willing to trade Myanmar beer for Myanmar Kyats. Noticing in the corner of my eye football on the TV airing Leicester city winning the league. I waste no time in returning to the hotel to finally retrieve a WIFI code and get myself a sports stream from the local channels.
The beers and conversation flow around the forecourt chairs, realising I was surrounded by a solid group of people that were eager to explore this country as much as I was. An eclectic mix of travellers all discussing their previous adventures, all of us under the knowledge we're in for something completely different to your usual Asia on a shoestring scenario. 
Feeling tipsy, I drag myself out of the chair and into the sun, the heat at constant blaze… it was time to eat again. 
We later head to another restaurant for the evening. Slowly picking up the lingo we say 'Mingalabar' to every local we pass. The odd western traveller sticking out like a sore thumb we realise we look just as misplaced as they do in this foreign land.
Another well rounded meal followed by an iced coffee (YES... AN ICED COFFEE <3) We again retreat to the hotel for a final night cap (or seven) and a comfortable well rested night's sleep.
Awoken by a low toned bell echoing through the hotel rooms I couldn't help but peek a nosey at who the hell would be doing such a thing at 6 in the morning. Half naked I poke my head out the door to see a long chain of Monks on their way to the monastery for their morning rituals. All were wearing their bright orange dressing, carrying their silver treasured lunchboxes. It's an absolute wonder how the monks live out here day by day.
Come mid-day we all huddle at the entrance of the hotel, eager and ready for what today had to bring. Before we knew it we were all riding mope-heads around dirt tracks hopping from temple to temple. I say mope-heads they were actually E-bikes and couldn't get past 40 KMs per hour but they were definitely nippy on the dusty roads. My only recollection of me riding any form of motorised bike involved a car park, a bruised knee and a broken wing mirror. Now probably wasn't the best time to remember the only time I rode a vehicle I ended up crashing it.
After grouping with some other travellers on the e-bikes, it felt like I was in some elite biking travelling squad chasing the dust from Pagoda to Pagoda while slipping and sliding in the sand. Each temple we visited we received more and more knowledge of the Burmese culture and the Buddhist religion. Highlighting the individual artwork across the temple walls, with fine details of hidden historical secrets. Removing the footwear at the entrance of every temple, never feeling like a chore, just enhancing how precious each place of worship is to the community.
We take to backstreets, riding one by one, down winding alleyways, dodging pet pigs and mud pot holes to pit stop at a little café to rehydrate. Pepsi from a glass bottle always seems to taste nicer so I choose one from the fridge and sip slowly till I feel refreshed and cooled down. Adjacent from the café was a small lacquer work shop full of handmade jewellery cups and ornaments.
We shuffle into the backroom to receive a full blown tutorial in how each delicate item is made and the different techniques used to craft such articles. The artwork so detailed it was fascinating to see the creations etched so quickly yet so perfectly. I decided to purchase a few wooden bangles for a close friend. The beautiful hand crafted chest of draws for 60USD wasn't going to fit in my backpack so took bangles and left. I manage to capture a selfie with the shop owner before we depart again on our E-bikes. Onwards we rode to the river boat cruise we had planned!
Finding ourselves surrounded by a family of young Burmese children, they stood around us launching their Crayola coloured drawings in exchange for the few Kyat notes we were carrying. The kids collectively managed to clear our wallets from our in-ability to say no to the adorable cherub faces and grabby hands. We arrived at our river cruise departure point where we all boarded the hand crafted boats comfortably with room to spare. The children waved us off as we set sail into, what looked like, a thunderstorm. Gliding through the waves everything felt so vast, open and free, to be un-surrounded and lost in a steady choppy tide. 
Sailing further and further into the distance, the thunder cloud was soon above us, to which we had to turn around and retreat back to the sandy shore. The steady choppy tide didn't seem so steady for long and before I knew it the captain and his tiny sailor were putting on their life jackets. The thrilling idea did cross my mind, getting lost at sea, scavenging for food, making new friends to footballs called Wilson. Before I could even entertain the thought, we were back on land accompanied with alcohol, mangos and bamboo huts.
KALAW
We packed and set off early for another air con delight unto Kalaw. The views of the open plains and picturesque mountains were enough to keep me awake throughout the entire journey. As the driver precariously zig zagged the roads you could tell he'd been up these routes many times. The cliff endings so steep with a view of clouds getting lower, you could tell this region was a fresher open cleaner district. With talks of elephants and tigers living in these ends you could certainly understand why.
We check our bags in to our new hotel and once again commence another mini adventure round the town. Lost in more markets but more clothing and handmade jewellery, I find a little cafe with tiny stools and pancakes on offer. Unsure of the stools stability and whether it can even take may weight , I opt for the pancake to go and nibble as I embark on a climb to the highest point of the town. Casting another birds-eye view over this beautiful place I pause to take it all in. The air was fresh and cooler up here and the prevalent nature allowed it. Walking around the summit I was cautiously followed by a healthy pack of stray puppies, tumbling over one another like a cute youtube video they were all adorably gazing in excitement to see me. Realising I managed to miss my rabies jab, I decided to smile and just walk on with haste.
The next morning we awake early for our trek through the tea leaf fields. Some of the group unsure how safe the trek was going to be, I decided to stretch my legs under the assumption that I'd smash the trek in no time at all. Stocked with water and breakfast in our bellies, we arrived at our starting point, greeted by one of the locals. He introduces us to the town by wandering round the huts and homes on stilts. He then leads us to the village farmers where they show us all the produce the villagers' farm out here. Ginger, Avocado and Tea Leaves being the main products with Tangerines brand new on the menu this year. 
We then ventured from the village to the tea leaf fields. The pathways became narrower with my footing becoming more and more unstable. There was a picturesque view that surrounded us while we were trekking through the green valleys of wildlife and nature. The soil beneath my feet felt freshly dug and untrodden, at which point I wondered if the guide knew where he was even taking us any more. I continue either way, creeping higher and higher. We were almost at the peak. The thought of me stopping to take a look around didn't seem possible just yet, as I solely focussed on right foot, left foot, right foot, left foot. I stumbled into a ditch at one point, to which my heart jumped out my chest, I took a second and laughed it off thinking to myself 'you can do this, you can do this'.
As we reached the pinnacle of the Tea leaf hills I turned and saw a spectacle of trees and organised crops. These were actual PG tips tea bags at its most organic form. Who would have thought they grew in such a magnificent place. We carry on with the trek, meeting several farmers speaking in their local tongue. Luckily we all knew the term 'Mingalabar' so we greet and smile, then move on. After chanting several sing a long songs and snapping enough profile pictures to last a life time, we had thankfully reached our destination.
SHAN VILLAGE
Welcomed into a homestay style restaurant, we were served crunchy warmed crisps, cabbage noodle soup and obviously, tea. As the massive pot brewed at the centre of the table there was a sense of accomplishment and relief to sit down. Tasty sticky stir fry shortly followed and before long we were eager to get out and on the road again. Before leaving we purchase a few hand crafted bags and scarves from a delightful local that sat with us throughout our meal. Our lingo had upgraded by this point to which we left their abode with a 'Chezubah'. (Thank you).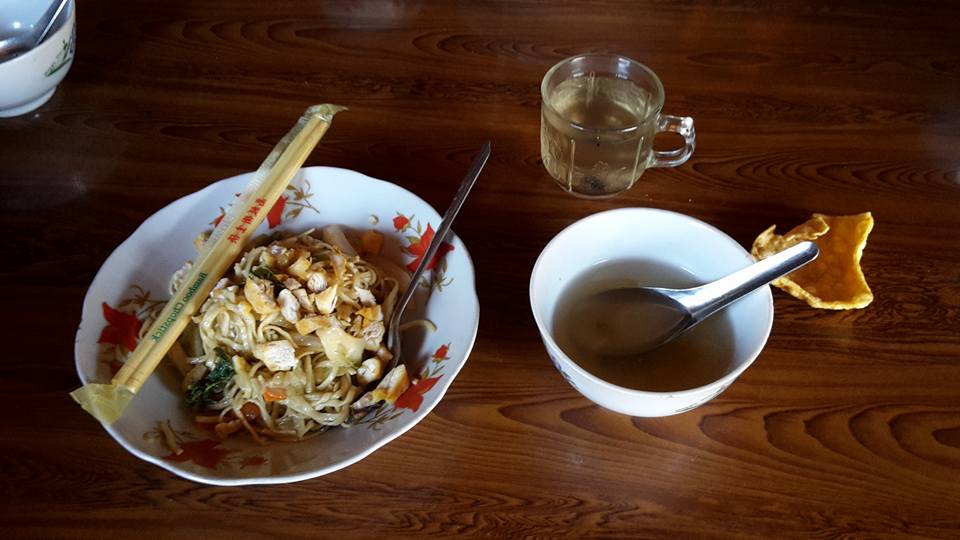 As we left the village, walking through the hand built houses; the locals stood at their doorstep to wave us off. We'd wave back in awe of their lifestyle, so simple in the wilderness with little electricity, little luxuries heaven forbid any internet. A community where by everyone knows everyone and that's exactly how they like it.
The trek was in its final stages, we were almost at the finish line. Passing back through farmed fields there was uplift in the group. One final cliff to climb with a lovely air con coach waiting at the top. The pace quickened as I looked over the fields one final time. There was no doubting this place was enchanted and untouched by tourism, Thankfully I was one of the lucky ones, a traveller visiting the untouched that had had the opportunity to see this corner of the world first. 
INLE LAKE
Another comfortable coach ride into Inle brought us to our next accommodation for the final few nights. We all had a feeling that the good times were coming to an end. Spotting a few cute local coffee shops on our journey through Inle town, again we dump our backpacks and head out to explore yet again. More comfortable in Myanmar surroundings this time we pass the locals like we've lived here for years, asking for the local super market, where's good to eat or just saying 'Mingalabar' to every person we pass. We found ourselves at an adorable French coffee shop with bright orange outdoor decking and comfortable sofas to match. I ring the tiny bell placed on the table for service and promptly a polite Burmese lady takes our order. I tuck into quite possibly the best croissant I've ever tasted, baffled how they managed to make it so flaky and fresh, I don't think you'd find better, crispy, baked savouries in Paris, let alone central Mayanmar! Refreshed after a caffeine hit and tasty food, we retreat back to the hotel for the evening's dinner service and downtime, steadying our anticipation for tomorrow's antics.
The longboats file into the harbour, strategically locking them into place, getting ready for us to board. Thankfully a lady on a small stall approaches displaying her collection of traditional wooden multi-coloured hats. I choose a very jazzy pink and yellow conical hat and kindly ask her to tie it around my chin. Tight, secure and safe from the sun it was time to climb in and set sail. As the engine started we soon picked up pace, each tiny movement on our seat would rock the boat more than you'd expect. I realised I had to sit still and just enjoy the scenery around me, this being, by far,  the easiest task I've done the whole trip. We set out into Inle lake, Vast surroundings of fishermen, houses on stilts and other long boats flying across the calm water. I notice our first stop in the distance, A gigantic Pagoda, nestled on the banks of the lake. I balance myself out of the boat and stand full view of the magnificent temple. I remove my footwear, wrap my longyi across my waist and tiptoe across the scolding sunburnt floor tiles. Climbing the steps into the temple I see a golden reflection glistening around the room. I later find out the golden reflections were from the 5 Buddhas, over decades of offerings, it had been layered in precious gold-leaf starting from 1934.
We move on from the Pagoda banks to visit several workshops found on stilt houses hovering across the lake. We watch several elderly women hand craft delicate cloths and laced garments. We stare hypnotized by their accuracy and speed of the threads looping one by one. We see a team of Blacksmiths batter smouldering metal into carving knives and Samurai swords. Finally we see cigars made from local tobacco fields, wrapped in large symmetrical oval leaves. Their skills so mastered and fluid you could sit and watch their synchronized routine for hours and hours.
The following day we caught a short flight back to where it all began, Yangon, to catch our long haul back home. Nearing the end of our adventure we were due our final supper and farewells followed by several beers and rums. While relaxing in the sun we reflected on all the amazing experiences Myanmar offered us. The heritage and culture infused from India and Thailand, gave Myanmar so much individuality and character. It couldn't have been any more alternative to what I was hoping for from an Asian adventure. Learning the religions, speaking to the locals, sharing drinks with the neighbours opens your eyes to how the other lives. When you hear of a country only recently encouraging tourism, you'd expect a somewhat closed approach with an un-invited welcome but how wrong I was.  Every family, restaurant, temple and beer station could not have tried harder to accommodate every one of us. A beautiful country in a beautiful setting, enhanced by the love of the Burmese villagers. I'll see you again one day Mayanmar. I hope you stay exactly how you are, but, until then, I say 'CHEZUBAH'!! xx