Off to Fiji? You're in for an amazing experience! We absolutely love it – yes, for its beyond-perfect beaches and underwater wonders, but most of all we love the warm welcome and the relaxed vibe. It is truly one of the friendliest places on earth!
We want you to experience all it has to offer, so here are our top tips to help get your holiday off to a smooth start. And, before we start, the first thing to clear up any confusion – the capital Nadi is pronounced Nan-dee.
Before you go, here are some of the most commonly asked questions from travellers like you.
What's the best time to visit?
First thing: there is no bad time to go to Fiji. The climate is tropical: there's a wet (November to April) and a dry season (May to October), but the maximum hovers around 26–31 degrees all year round.
The dry season is the most popular time to travel, and it's at its peak during Australian and NZ school holidays from June to September; you'll pay the most for accommodation in June and July. If you can swing it, May and October are the best months to visit: temperatures are mild, rainfall and humidity are lower, and there are slightly fewer tourists, meaning you might be able to snavel a good deal on accommodation.
Rainfall and humidity (and the likelihood of typhoons) are at their highest between January and March, but school holidays mean accommodation bargains are rare in December and January.
Do I need a visa?
You don't need to get a visa before you go, you'll get a four-month visa on arrival. (It's always a good idea to check before you go though, as visa conditions anywhere can change.)
What are the accommodation options?
Most travellers to Fiji stay at resorts – but the definition of 'resort' is wide and covers all types of accommodation and budgets. As a general rule, a resort is any accommodation that offers a package, with room, food, activities etc included in the price. There are sprawling resorts with day spas and infinity pools, exclusive boutique places and getaway resorts on their own private islands. There are also backpacker resorts offering dorm accommodation (most have a few private rooms too) and a bunch of activities and excursions.
You can find hotels and guesthouses on the bigger islands (Viti Levu, Vanua Levu, Taveuni and Ovalau), and they're handy as a base for exploring town and village life. If you really want a village immersion, some areas offer homestays, a fantastic way to learn about the traditional way of life.
What's the best way to get local currency?
It's easy to get your hands on Fiji dollars (FJD) in the main urban areas where you should have no trouble finding ATMs. Check the currency conversion and ATM withdrawal fees charged by your bank. The standard change for a withdrawal is FJ$5 (you can avoid this if you have a card that's part of the Westpac Group by using Westpac ATMs in Fiji). Generally, you'll get a better exchange rate from an ATM than you will from currency exchange (either in your home country or in Fiji).
Remember that you won't find ATMs on the outer islands, so make sure that you withdraw enough money when you have ATM access. And be aware that many resorts will charge a credit card surcharge, which you can usually avoid by using a debit card. If you pay by credit card you may be offered the choice of paying in your home currency or the local currency. Always choose local – your credit card company will give you a better rate.
How much will I spend?
You can do Fiji on all budgets – how much you spend depends on how much you want to spend! If you've booked a fully inclusive resort, most of your expenses will be covered. Outside your resort, expect to pay around FJ$10 for a meal at an inexpensive local restaurant, or FJ$30-40 (and above) if you go for more touristy, international fare. A local beer is around FJ$5 for a large bottle at the supermarket. Anything imported – beer, wine, food – comes at a premium, so if you're on a strict budget it's best to go local!
Do I need to tip?
Tipping is not necessary or expected, but always appreciated.
Can I drink the tap water?
The city water supply in Suva, Nadi and other large towns is chlorinated and generally OK to drink – although you may not like the taste. Luckily, the famous bottled artesian Fiji Water is everywhere! Outside the main towns, the water supply is usually tank water and generally not safe – remember this goes for ice cubes and raw food that may have been washed in water too. In the resorts, water is usually treated and bottled water supplied.
Do I need to worry about getting sick?
Generally Fiji is a pretty safe place to travel – there are no recommended vaccinations to get before you go. But there are a couple of health risks you should know about.
Mosquitos are everywhere, leading to outbreaks of mosquito-borne diseases such as dengue fever (there have also been a few cases of Zika virus recorded). To protect yourself, make sure your accommodation is mosquito-proof and do all you can to avoid getting bitten (always use insect repellent and wear long-sleeved, long-legged, light-coloured clothing).
Typhoid, hepatitis and other infectious diseases are relatively common – to avoid the risks, be careful with drinking water (see above) and avoid eating raw or undercooked food. Don't eat reef fish. It can carry toxins that will make you very sick. Instead choose deep-water fish such as wahoo, tuna, marlin and mahi-mahi.
Is it safe to drink kava?
Full disclosure: the Australian Government Smartraveller site Warns against kava for pregnant women and people on prescription drugs. But for most travellers, giving kava a try is harmless and an unmissable Fiji experience. Avoid drinking alcohol with it, and of course, practice moderation!
How much should I pay for a taxi from Nadi airport?
Yellow taxis are the official airport fleet and you'll find them just outside the arrivals hall. The airport flagfall is FJ$5, and the drive into Nadi town should cost around FJ$25, to Port Denarau FJ$30, and to Suva around FJ$200.
Which taxi company should I use?
Licensed taxis (they have a yellow number plate that starts with 'LT') must have a meter in plain sight but the reality is that outside Suva, they often don't use it. Negotiate and agree on a fare before getting in.
If you like your driver, get his name and number. Asking your resort to call you a taxi will result in a higher fare, so if you can call your guy whenever you need a ride you'll save money and hassle!
Taxis returning to their home base (sometimes called 'share' or 'rolling' taxis) will pick up a bunch of people and charge the local bus fare rather than doing the return trip empty. For example, a driver returning to Suva will stop by the Nadi Town market bus stop and load up with passengers. Ask around at the bus stop and check the bumper bar where the home base is usually displayed.
Things to keep in mind if you rent a car
Are you a timid or inexperienced driver? Maybe rethink your car hire plan. Fiji's roads are in notoriously poor condition and its drivers notoriously, um, unpredictable. You'll need to drive confidently and defensively at all times!
Check the rental conditions. Some agencies don't allow driving on unpaved roads, which will limit your ability to explore, while others don't allow vehicles to be taken on the ferries to Vanua Levu, Tavenui or Ovalau.
Hire is generally expensive, even moreso with the larger companies, but their support (and the quality of their cars) is better.
Check what the insurance covers and the excess amount, which can be high. Generally, underbody and overhead damage are not covered, so look out for potholes and road humps and don't park under coconut trees!
What kind of electrical plug do they use?
The current is 240 volts AC 50Hz with a three-pin power point (the same as in Australia and New Zealand).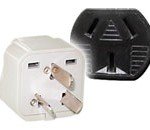 Should I get a local SIM?
Short answer: if you plan to use your phone a bit, yes. Roaming is expensive and it will work out much cheaper. Vodafone, Digicel and Inkk Mobile are on the GSM network, so they'll be compatible with Australian and NZ phones. Avoid SIMs from TFL (Telecom Fiji Limited), which operate on the CDMA network.
Remember: your phone will need to be unlocked to accept a SIM from another network.
Are there supermarkets? What's the best place to buy supplies?
The big centres like Nadi and Port Denarau have big supermarkets like you're used to at home, with packaged foods like cereals and noodles, wine, beer and brands you'll recognise (at premium imported prices). Avoid buying fresh fruit and veg there – it's much cheaper at the local markets.
Outside the big towns you're likely to find only smaller shops without the same range, so best to buy what you need to in the big towns.
Is there a lot of crime?
Fiji is generally a safe place to travel. Crime rates are pretty low, though there is petty theft – take the usual precautions with your belongings. It's generally advisable to avoid walking around at night in towns and cities.
How can I be respectful to the locals and their customs?
What might be appropriate to wear in the resort is not so much when you hit town (and especially in small villages). Women should cover their shoulders and men avoid singlets; both should avoid showing too much leg. It's a good idea to carry around a sulu (Fijian sarong) to cover up.
Always remove your hat and take your sunglasses off your head when entering a village or going inside.
Never touch anyone's head without permission: the head is sacred to Fijians.
If you're invited to a village, always bring a gift (sevusevu) to offer to the headman (traditionally, it should be kava).
Refrain from public displays of affection – hugging is not seen in Fijian culture.
If you're offered kava, you really need to at least take a sip – it's rude to refuse.
Where is everybody?
It's Sunday. They're at church.
I want to chat with the locals! What should I say?
bula – you'll hear this everywhere you go. The literal meaning is 'life', but it's used for hello, welcome, and many other reasons. Use it freely and often, just like the Fijians!
moce – goodbye
vinaka (vaka levu) – thank you (very much)
kerekere – please
io / sega – yes / no
vacava tiko? – how are you? You can respond with tiko.
sega la neqa – no worries!
Title Image by Paula Cobleigh, Shutterstock